The Spiritual Quest Foundation provides events and forums for people to deepen their spiritual awareness and explore their insights, perceptions and gifts.
The Spiritual Quest Foundation was founded in 2009 by Michael and Jennifer Olin-Hitt as an organization to support individuals and groups in spiritual development. Most of all, we develop our events and publications to aid people to recognize and develop spiritual awareness and gifts.
Spiritual Quest Foundation and Braided Way Magazine sponsor the Braided Way Retreat.
JOIN US FOR A WEEKEND OF SPIRITUAL PRACTICE, PERSONAL GROWTH AND AUTHENTIC COMMUNITY
October 19-21
Cuyahoga Valley
Environmental
Education Center
Peninsula, OH
Braided Way Magazine

Spiritual Quest Foundation publishes Braided Way Magazine. Visit the magazine at http://braidedway.org
Braided Way Retreat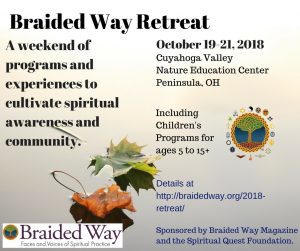 The Braided Way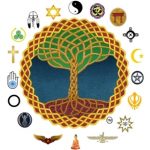 The Braided Way is a framework to see every faith tradition as a strand, braided into a larger whole of spiritual awareness. In the Braided Way, combining spiritual practice from various faiths allow us to explore sacred experience and wonder in forms that resonate with our personal spiritual needs and sacred intuitions. In today's culture, many people shun religious dogma, but yearn for spiritual connection. The Braided Way allows the ceremonies and practices of multiple faiths to be available without the confinements of cultural dogma.